Total Clean Solutions use Soda Blasting For:
Stonework and Bricks
Graffiti Removal
Paint Removal
Daily Grime
Back to metal
Car Chassis
Car Body Work
Boat Hulls
Anti foul
NDT Preparation
Preparation of Heavy Plant for Re-Painting
Stainless Steel Food Machinery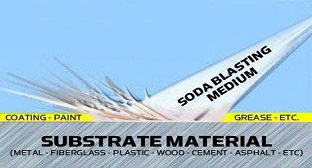 Non Destructive Cleaning System
Soda Blasting is fast becoming the No.1 solution in commercial and industrial property cleaning, restoration and protection. It safely removes decades of surface contamination and other coatings bringing the property back to its original and natural condition without harming the host material, while at the same time remaining friendly to the environment. Soda Blasting is the environmentally-friendly cleaning and coatings removal system. It is extremely effective on smoke stains, dirt, oil, grease, muck and paint from almost any surface.
Soda blasting is a revolutionary cleaning and paint stripping technology that uses compressed air to propel bicarbonate of soda onto a surface. The process removes paint and contaminates without harming the original surface.  The unique properties of sodium bicarbonate allow it to remove paint, grease, moulds, oil, soot, and other contaminants without risk.
The sodium bicarbonate used is a specially formulated type of baking soda. This non-toxic, food-grade material is 100% water soluble and environmentally safe.  Soda blasting is the safest and 'greenest' alternative to sand blasting and grit blasting.
The Sodium Bicarbonate blast media can be applied wet or dry, and without the use of acids or chemicals, the Sodium residues can be dispersed safely into the atmosphere or the drainage system. Very importantly, Soda Blasting does not cause crack closure, metal fatigue, or generate heat and is therefore ideal for exposing weld seams for NDT testing.
The innovative system can also be used on soft or delicate materials - for example, aluminum, hydraulics, bearings, glass etc. Soda Blasting can usually cut down the number of cleaning processes which means a drastic reduction in the time taken. No need to use solvent-cleaning, sanding, pre-wash or steam cleaning.